Howard Moody: the experience of writing and composing PUSH
PUSH is inspired by the true story of Simon Gronowski, who was pushed off a train to Auschwitz by his mother in 1943.
I met Simon Gronowski after he came to a performance of my opera Sindbad – A Journey Through Living Flames at La Monnaie, Brussels in 2014. While telling me his story, he said: 'Ma vie n'est que miracles' (My life is only miracles). I immediately asked him to write that down for me on a small scrap of paper and I promised him there and then that I would write my next opera about his story. I have kept and will treasure that scrap of paper.
His story haunted and enchanted me – so when Battle Festival and Glyndebourne approached me about writing a new opera, I knew what I wanted to base it on. With the first performance so close to the 950th anniversary of the Battle of Hastings, my first point of research was to read the relevant sections of the Anglo-Saxon Chronicle, which describes William the Conqueror's savage reign of terror against the Anglo-Saxons during the twenty years following the battle. History repeats, and this period offers a mirror of events in Europe in the 1940s.
I also discovered that William recruited his army from a Viking settlement in Normandy. This drew my attention to contemporary accounts of the 'Jungle' refugee camp in Calais – as well as the devastating reports from the Syrian conflict – notably the plight in the summer of 2015 of the desperate crowds trying to board trains in Budapest.
With these three strands, I began work on the libretto. I had the privilege of meeting Simon Gronowski again at the Caserne Dossin in Mechelen, where he had been imprisoned with his mother and sister – the place from which thirty-six trains went direct to Auschwitz. As we went through the archway where he had been put on the train, he pointed to an upper window and said, 'That's where I last saw my sister.' This 'Orpheus moment' became the emotional core of my writing and composing, together with the great gift of Simon's overriding positive message: 'Ma vie n'est que miracles.'
Having written some choruses, I met many groups of children and adults in Hastings and Battle in January 2016. I taught them the train song and some of the Arrest scene. Their response was very emotional and I was encouraged that a dramatic structure was really in place. They then had a session with Simon Iorio, whose insight, commitment and skill in staging the piece has been amazing. He immediately started to interpret the timeless quality of the story.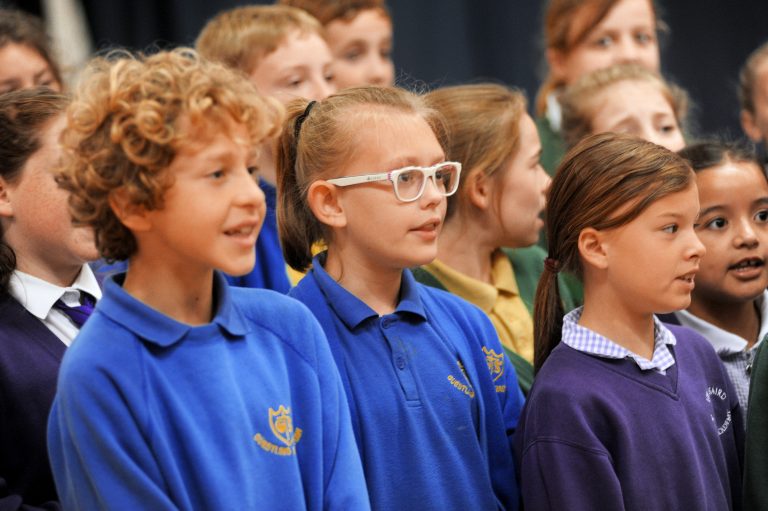 The following month took me to New Zealand to conduct an opera. Each day began with the sound of the bellbird. Here I found the space to connect with the ultimate positivity of Simon Gronowski's story and spirit. 'Ma vie n'est que miracles… J'ai voulu vivre dans le present et l'avenir, pour l'optimisme, la joie et l'amitié.' (My life is only miracles… I wanted to live in the present for optimism, joy and friendship.) Inspired by the bellbird's song, together with Gandhi's favourite song that had recently been sung to me by an Indian dancer, I started to express the positivity in the story. The bellbird's song is something of a theme of peace in the music. Gandhi's song (in Gujarati) is the means through which the imprisoned community come together.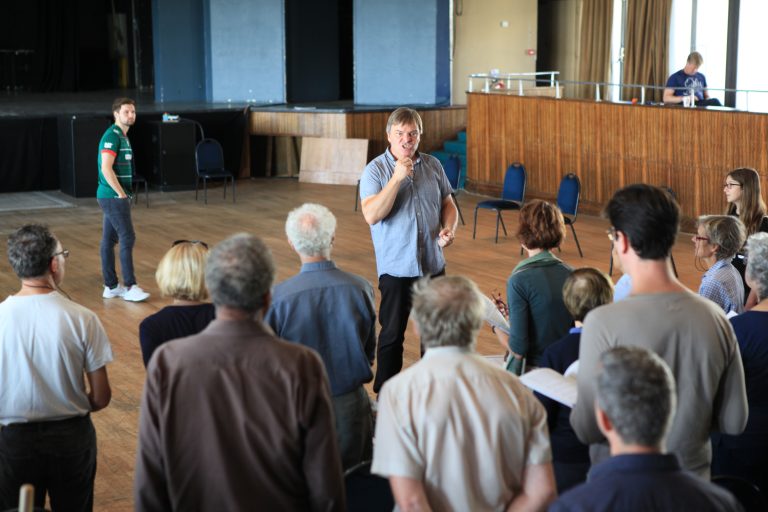 On completion I went to Brussels to play the opera to Simon Gronowski. Hosted by Sarah Ehrich – who had helped to introduce me to him in 2014 – I sang and played the piece to Simon, making at least an impression of the vocal lines. This was one of the most emotional experiences of my life. There were many tears of joy and pain. I left encouraged by Simon's response to the integrity of the piece. He had always supported my intention to make his story relevant to contemporary events, but at the core lies an acknowledgement of the pain that he still carries for his mother, sister and father – a shared pain that touches us all, survivor and victim.
For this production, the piece is for the community that sings it. It is hard to imagine a more committed process. The people of 1066 have sung for their lives, bringing a depth of response that is beyond words.
It is a great honour that Simon Gronowski was present at the first performances. The opera is dedicated to him.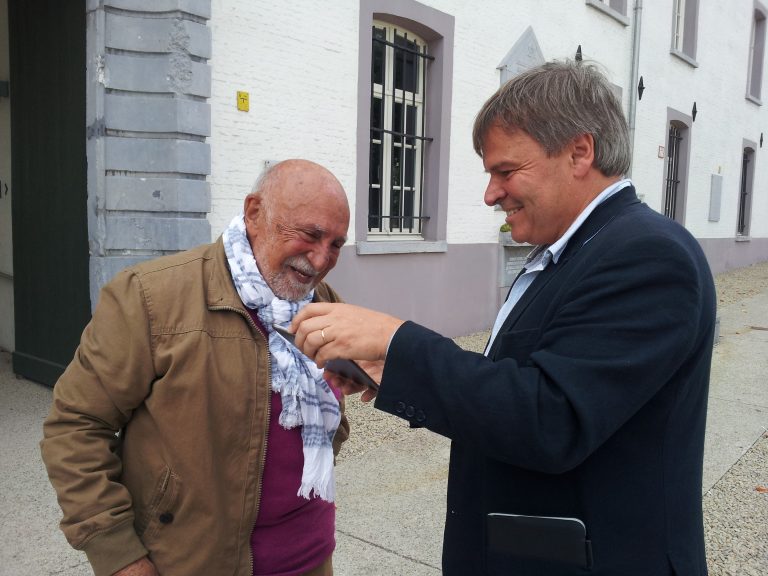 PUSH is the eighth miracle of my life. It is marvellous for opera and music lovers and it is helpful for the young generation who oppose barbarity for a better world of peace, democracy, tolerance and friendship between people.
PUSH is authentic and moving. I love the libretto: it is real poetry and I can hear the music in it. It was fabulous to hear Howard play it for me privately at the piano in Brussels in May this year. And now it will be shared!
Howard was touched by my mother's gesture, and with this emotion he has composed PUSH.
The deportees thought they were going off to work; they did not know they were going to die. My mother pushed me to save my life and give me freedom, to give me a new life. She continued her journey towards her death in order to save her little boy.
To be able to attend this opera in my lifetime is most incredible and moving. It would be fabulous to be able to hear PUSH one day in Brussels. It would be good for the cultural and philosophical life in Belgium – especially because what happened to me happened in Brussels.
Simon Gronowski