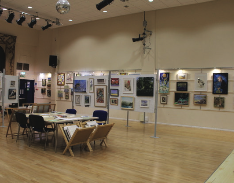 Battle and District Arts Group (BDAG) have invariably held an annual art exhibition, but have missed the last two 'lockdown' years. We are pleased to be able to return for 2022 and the Summer Exhibition will be held in The Memorial Hall, Battle High Street, and everyone is welcome.
Entrance is free and all the art on show is for sale and at much below gallery prices. Additionally, there will be some how-to-do-it art demonstrations and for the first time greetings cards will be available to buy. The new BDAG annual calendar will be available, with high quality pictures. There is a raffle in support of charity, the prize being an original, framed painting.
Just come and view, put a visit to the exhibition in your diary, we look forward to welcoming you. If you would like to join BDAG, there is a special rate of £25 annual membership covering until the end of 2023.
More Information